Agitator Tanks, Mixers and Industrial Homogenizers
We are specialized in fluid agitation, we design and manufacture the different stainless steel tanks, tanks and silos that a process of mixing a liquid product, its dissolution or homogenization needs.
Manufacturers of Industrial Agitators of the highest quality adjusted to your needs
ETD Inox Industries, leader in the manufacture of agitator tanks and reactors, offers different possibilities to our clients in terms of process equipment to achieve a final product. The agitation supposes to be of capital importance at the time of elaborating and granting the specific properties that a final compound product need. We implement the necessary agitation system in our equipment, analysing the physical-chemical and process characteristics of all the majority and minority products that will be used in the processes.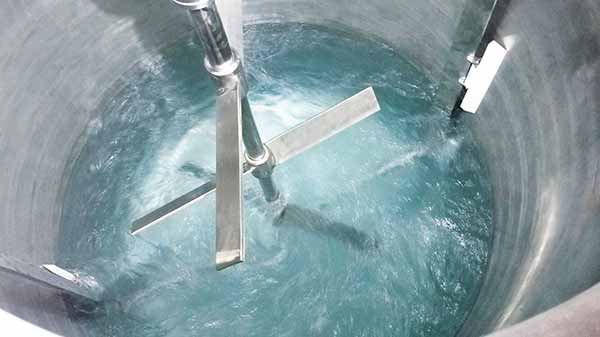 Maximum quality
We develop our products with the qualities, finishes and roughness required by the application, equipping them in the same way with the necessary heating or cooling system and heat-insulating the equipment.
Advanced technology
We use the most advanced simulation programs for the design of blade types, speeds and powers, to carry out homogenizations, thermal exchanges, mixtures, solutions, suspended solids…, providing the client with the necessary technical support in any case regarding information on the agitation process (times, diagrams, flows…).
Tailor-made solutions
We are specialists in the design and manufacture of agitator tanks focused on the most demanding industries such as food, chemical, cosmetic and pharmaceutical.
Simulation of the Agitation Process
Simulation carried out by our partner in agitation with the ANSYS finite element program Product: liquid detergents with a viscosity of 1500 cPs and a density of 1200 kgs/m3 Tank volume: 3000 L.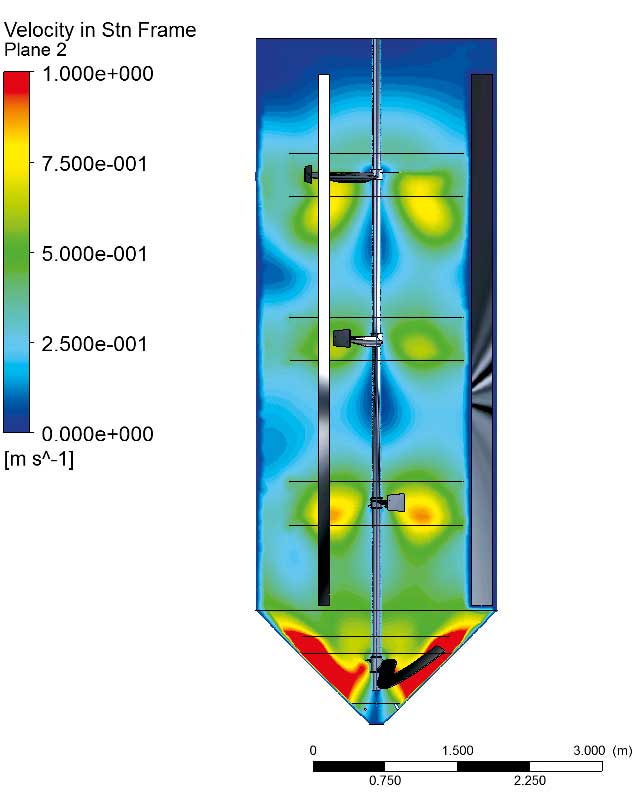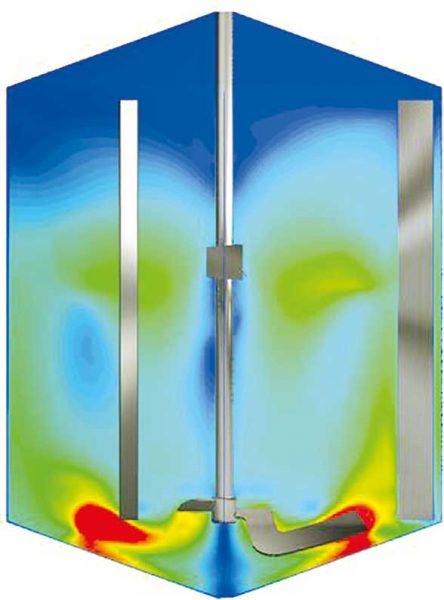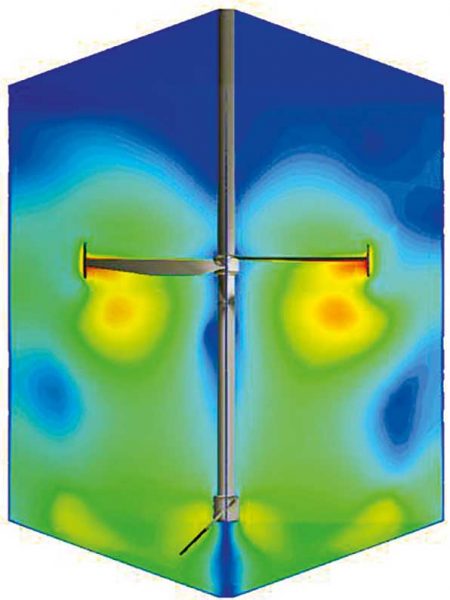 Examples of Installations Made with Industrial Agitation Systems
How to choose a good Industrial Agitation?
The choice of an agitator that fits our process is essential, since the efficiency of the agitation and mixing operations has an impact on both the costs and the quality of the process, key factors in order to maintain competitiveness. This is because a poorly designed agitator will be less efficient with higher consumption or breakdown problems, thus triggering operating costs, making our manufacturing process less profitable. Therefore, to make a good decision as to which industrial agitator to choose, it is very important to know the fluids that we want to mix, taking into account their viscosity, their density, their rheological behaviour, and the volume of our preparations, as well as the number of batches. All these factors will be decisive for the correct choice of the best agitator for our process, which is why we offer, in addition to standard products, the possibility of designing an agitator that fits the needs of each client. Analysing your needs and processes well, we will design a personalized agitation system, being more efficient, saving energy and gaining in processing times.
Need help or more information?
Get in touch with us and we will answer your questions without obligation.
Your data is safe because we comply with the RGPD (General Data Protection Regulation) and this is the information you should know:
Responsible for the treatment: ETD INOX INDUSTRIES, S.L. Address of the person in charge: Pol. Industrial, Parcelas 52 y 53 – 02200 – Casas Ibáñez – ALBACETE Purpose: Respond to your requests and provide our services. Legitimation: We will only process your data with your prior consent, which you can provide us through the corresponding box established for this purpose. Recipients: In general, only the personnel of our entity that is duly authorized may have knowledge of the information that we request. Rights: Know what information we have about you, correct it and delete it, as explained in the additional information available on our website.