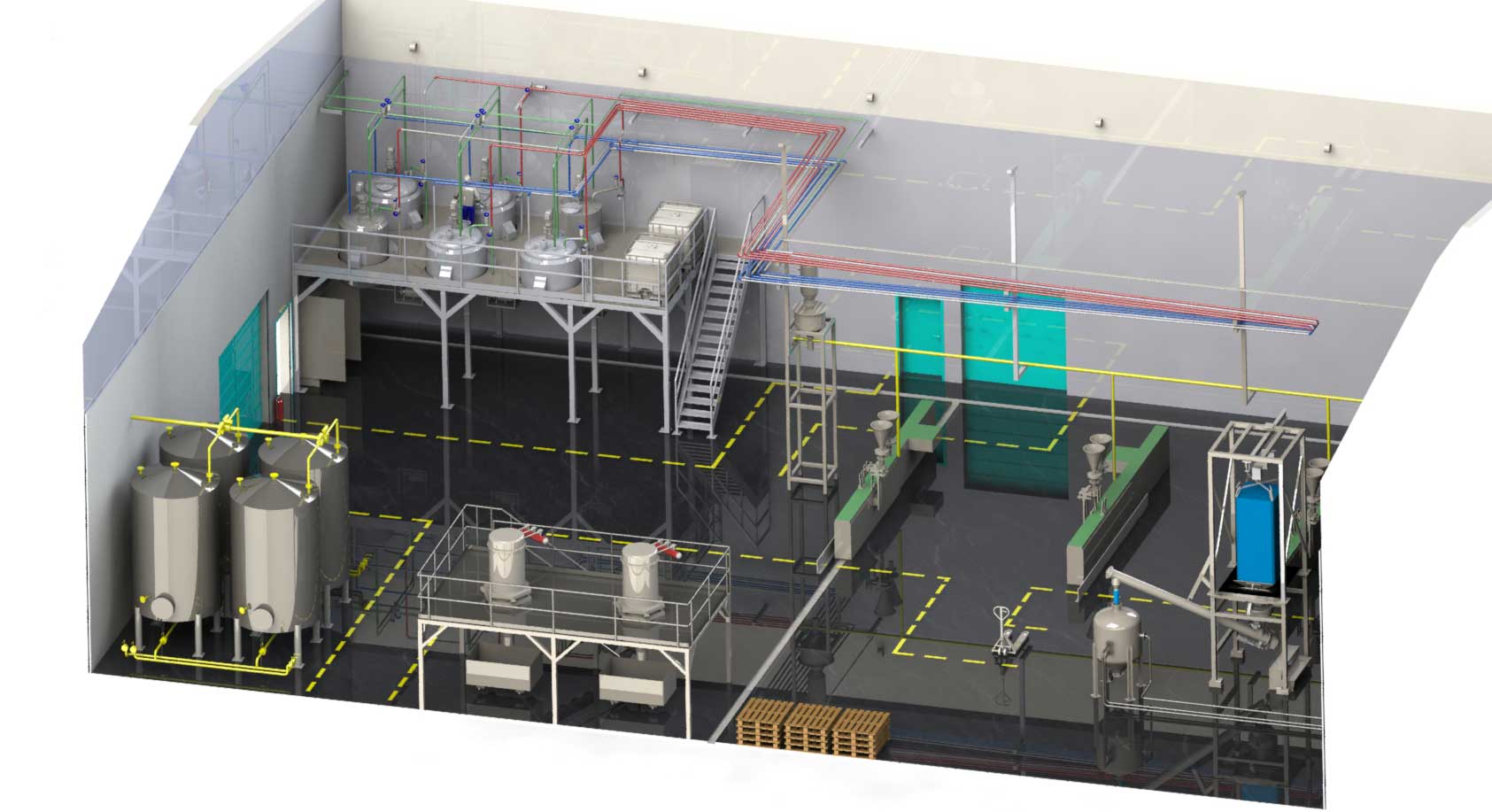 Industrial
Process Engineering
Efficient Design of Production Plants
ETD Inox Industries, thanks to our experience and a great team of professional engineers, we are specialists in carrying out process engineering developments, the purpose of which is to efficiently design a production plant.
We analyse all the technical data to carry out the implementation of all the elements necessary for the optimal functionality of a factory in terms of storage, conduction, dosage, agitation and packaging of liquid and solid products. We study the times required for the elaboration of the proposed product and, we develop the complete diagrams to carry out the pertinent manufacture and installation.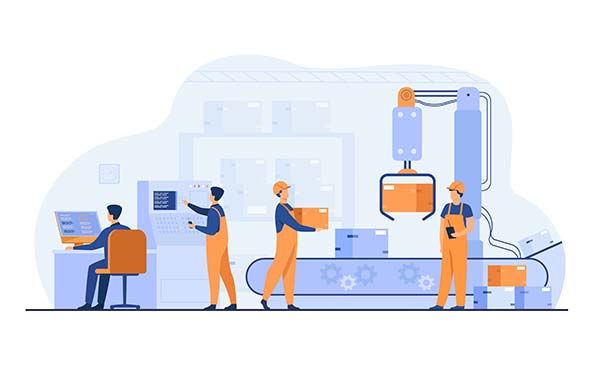 Our Objective for your Processing Plant
The objective is to guarantee the performance of our clients, from an economic, sustainable and safe perspective.
Listening
We listen to the needs of our clients.
Analysis
We analyse the physical and chemical characteristics of the products to be processed or dosed
Measurement
We measure the production times that our clients require.
Optimization
We create and propose new options to improve production systems in terms of time and costs.
Control
We establish control systems.
Parameterization
We carry out the parameterization of the entire system.
Workflow Design
We develop flow charts and / or process P&ID.
3D Development
We design our projects using 3D plans and rendering to offer a totally realistic vision of your facilities.
Performing calculations
We carry out the calculations regarding resistance of materials, structural and heat exchanges.
Integral Solutions Construction of Production Plants
In this way, ETD Inox Industries offers our clients the service of process engineering and the manufacture of all its elements, also completing all the strata regarding the efficient solution, development, implementation, manufacture, installation of equipment, accessories and instruments that a production plant in the agri-food, food, chemical, cosmetic and pharmaceutical sectors need.
Process Plants for Chemical Industry
Our clients need customized solutions. At EtD Inox Industries, each project is unique and exclusive to offer the different developments at the level of process and detail engineering for the sizing of complete factories in terms of storage, dosing and mixing of the different raw materials that require products such as:
Detergents
Dishwasher detergent.
Lubricants (greases and oils)
Fertilizers
Resins
Very high viscosity products
Paints and varnishes
Etc…
more details
We design the different elements that make up the project in terms of volumes and productions desired by our clients.
We perform the analysis of physical and chemical characteristics of each raw material for its correct storage based on current safety regulations.
We adapt the agitation systems depending on the products to be dosed and estimated times, optimizing the consumption of raw materials and process times.
We manufacture the different manufacturing reactors, installing the necessary control elements and specific finishes for perfect functionality.
Manufacture in our facilities:
Agitator / reactor tanks for emulsions.
Chemical reactors
Agitator / Reactor tanks for mixing liquids with different properties.
Agitator / Reactor tanks for solid-liquid mixture
Agitator / Reactor tanks for dispersions.
Agitator / Reactor tanks for solids suspension.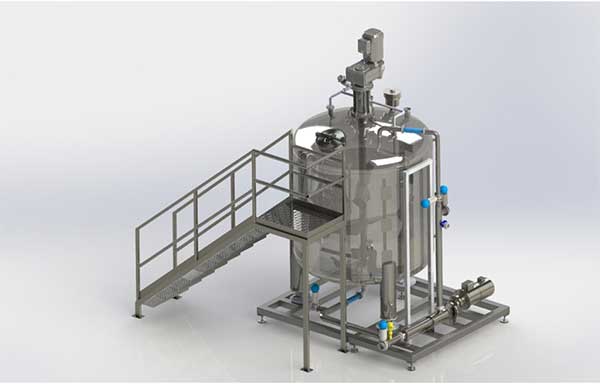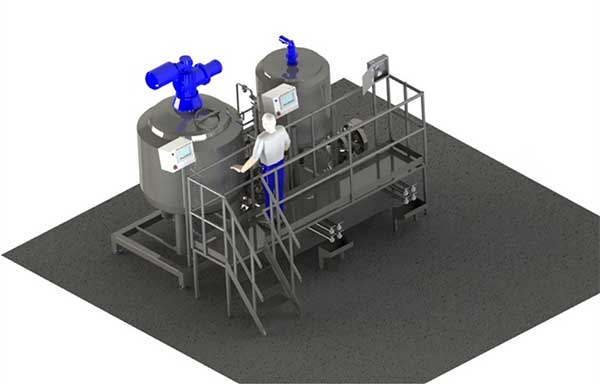 Process Plants for Cosmetic Industry and Personal Care
Each client requires a suitable solution to their needs in order to manufacture the various exclusive cosmetic products.
We listen to the different stages that our clients require to manufacture their products and we adapt the equipment according to the necessary requirements.
We analyse temperatures, production times, volumes, emulsions, dosages, pumping, physical and chemical properties of the products to later design, manufacture and install process equipment (stirrer tanks and reactors, melters, valves, pumps, pipes …), always offering all the automation and control of the production plant.
more details
Manufacture in our facilities:
Agitator / Reactor tanks for emulsions.
In-line mixers for adding solids.
Agitator/Reactor tanks for the production of bath gels.
Coaxial counter-rotating stirrer tanks / reactors for the manufacture of cosmetic and sun creams.
Agitator/Reactor tanks with counter-rotation for the manufacture of dyes.
Agitator/Reactor tanks for the manufacture of shaving hair fixer gels and foams.
Agitator/Reactor tanks for the manufacture of shampoos, lotions and deodorants.
Agitator/Reactor tanks with counter-rotation for the manufacture of toothpastes.
Agitator/Reactor tanks for the production of perfumes
Fusing for waxes.
Process Plants for Food Industry
Aware of the importance of hygiene and cleanliness in any food facility, as well as the established manufacturing times, EtD Inox Industries designs and manufactures all the necessary equipment in terms of storage and agitation within this sector, always complying with the regulations in force in in terms of food quality, in addition to carrying out the installation in the field in terms of pipes and instrumentation.
Chocolates
Sauces (mayonnaise, ketchup,etc…).
Yeasts
Juices
Jams and syrups.
Milk
Liquors
Etc…
more details
Within our production, we can offer the following manufacturing equipment:
Agitator tanks for liquid-liquid mixtures.
Agitator tanks for solid-liquid mixing.
Agitator tanks for solid-liquid suspension maintenance.
Agitator tanks for thermal homogenization.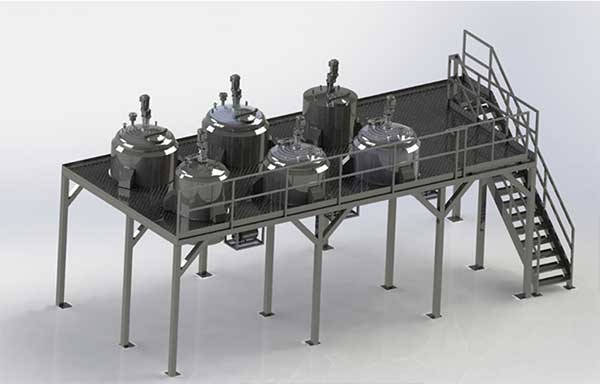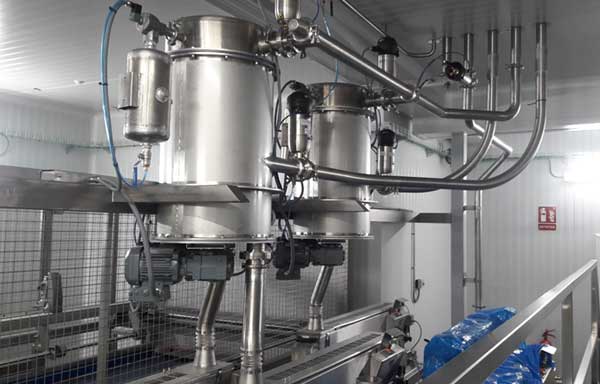 Process Plants for the Bakery and Pastry Industry
ETD Inox Industries, designs, manufactures and installs all the transport control elements and dosing of liquids and solids that a bread and pastry production plant require.
From the sizing and manufacturing of flour storage silos (heat-insulated or simple), stirrer tanks for yeast and sievers, to controlling the dosing of liquids and solids with the highest precision, batch and continuous, we develop and manufacture according to the specific needs of each client.
Contact us and request more information without obligation.
Contact Form
Your personal information is safeguarded as we comply with the RGPD (General Data Protection Regulation) and this is the information that you should know in this regard:
Responsible for the treatment: ETD INOX INDUSTRIES, S.L.
Address of the person in charge: Pol. Industrial, Parcelas 52 y 53 – 02200 – Casas Ibáñez – ALBACETE
Purpose: Respond to your requests and provide you with our services.
Legitimation: We will only treat your data with your prior consent, which you can provide us with through the corresponding box established for that purpose.
Recipients: In general, only the personnel of our entity that is duly authorized will be able to have knowledge of the information that we request.
Rights: Know what information we have about you, correct it and delete it, as explained in the additional information available on our website.